Cryptocurrency exchange, CoinDCX has released "Mood of the Nation", a national survey focussed on understanding the investment potential and behavioral trends among India's one billion users of cryptocurrency.
The highlights? Read on.
Approach to Crypto
60% of the participants who are earning below Rs. 5 lakh annually considered investing in crypto highly difficult because of the lack of ease and seamless alternatives available.
On the other hand, 68% of participants who are earning above Rs.10 lakh annually cited legal and regulatory clarity as significant concerns with regards to investments in crypto.
The remaining 60% of respondents felt that they needed an easier way to join crypto.
Is Crypto a Good Asset To Invest In?
The CoinDCX survey gave us a fairly optimistic statistic – only less than 5% of Indians from the unemployed and homemakers segment felt crypto has zero utility. Given that this number should further dip as we look at other demographics, this is great news.
And the numbers back this up – 72% of full-time employees and 62% of self-employed participants feel crypto is a good asset class to invest in. Participants with disposable income are also marginally higher and more optimistic about crypto.
Challenges
Amongst the graduates: Having said all this, the survey did observe that nearly 72% of graduates feel insufficient knowledge and lack of awareness are the major challenges faced by educated participants while joining the crypto market. 73% feel that crypto is an alternate investment class, whereas 67% of the post-graduates believed crypto to be a new asset class and a great investment choice.
Other segments: But this trend isn't limited to graduates alone. A substantial number of participants below 40 years of age find there is no easy way to join the crypto market. A majority of the young population – 52% – feels that insufficient knowledge and lack of awareness is a major difficulty on this front.
Adoption
Taking into account the age range criterion of the participants:
Below 35 years: 71% of the participants stated they have invested in crypto at least once and 69% view crypto as a good asset to invest in. Clearly, satisfaction levels for investors are fairly high.
Conversely, in the older segment of 40 years and above: 27% of the participants stated that they have never invested in cryptocurrencies.
Which Indians did CoinDCX Survey?
This first of its kind national study has received frankly overwhelming feedback from the more than 11k participants. It's also fairly representative of the young, financially active demographic, with the majority of the participants being between the age range of 25-35. Within the total participants, 47% were non-crypto investors while 53% of the respondents were crypto investors. A fairly balanced mix.
Talking about financially active demographics – 78% of the investors, in addition to cryptocurrency, have also invested in mutual funds.
69% of the respondents were from the Finance, Education and IT market prohibiting banking believed cryptocurrency to be a great asset class to invest in. Moreover, just 12% of the participants from the banking market believed that regulation is the biggest issue in cryptocurrency and expressed this as a ground for unwillingness to invest in this asset class.
Co-founder and CEO of CoinDCX, Sumit Gupta stated:
"This survey is an important benchmark in the Indian crypto discourse. It highlights the requirements of options for investing in crypto on one side and also emphasizes the requirement of smart regulation in the country. It is clear from the report that, while outwardly India is set to become the next global player on the international scene, it is extremely important that smart and sensible regulations become a part of the discourse."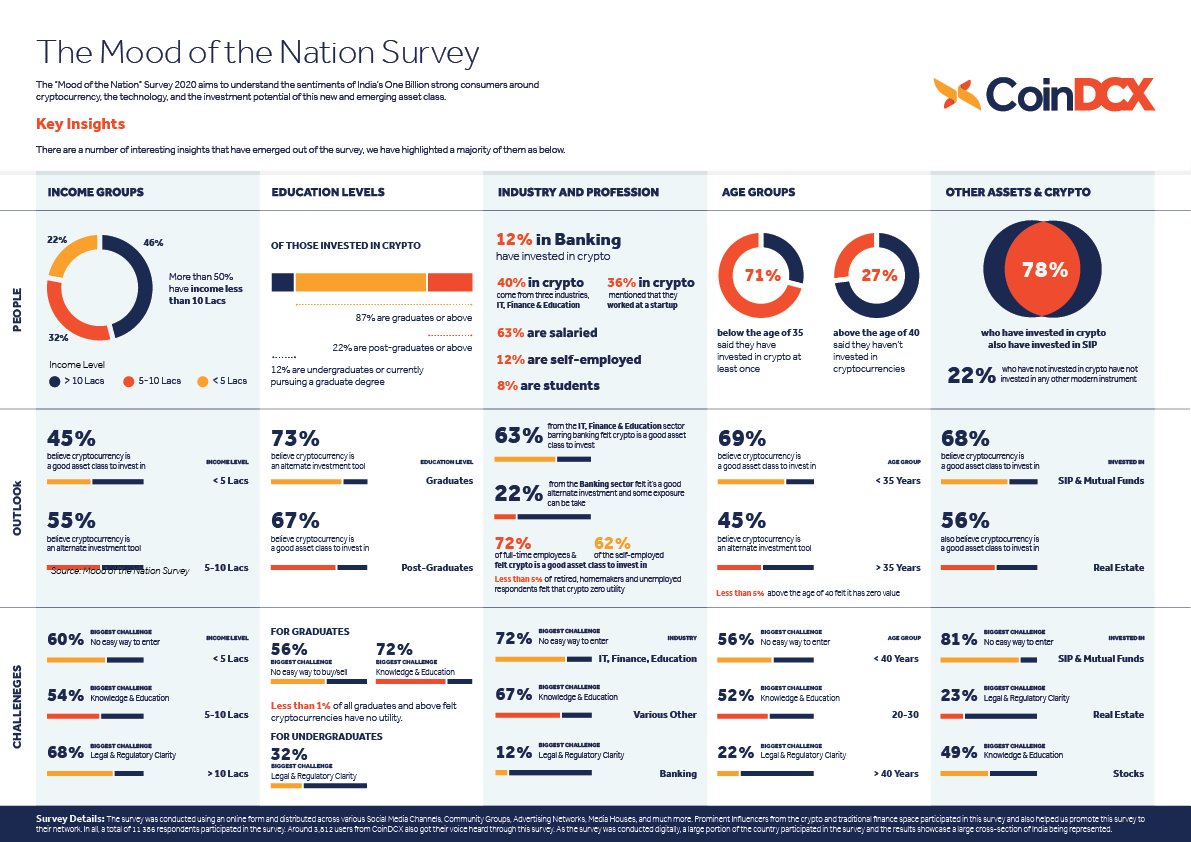 What does the CoinDCX Survey Mean For India?
The survey interestingly reaffirmed that being a techie and possessing enhanced knowledge of the digital economy has resulted in higher interest among millennials for crypto in comparison to the older generations. Moreover, the fact that most of the millennials are presently working and have considerable amounts of disposable incomes, has further added to their preference towards the asset.
How representative do you think this survey is as a "mood" of this nation? Share this article online and let us know!