A London based Fintech startup Crypterium listed its CRPT token on Bitbns — a leading cryptocurrency exchange in India.
This token listing is part of a strategic plan to promote Crypterium products in India, an attractive market for Crypto adoption. As of Monday, Indian users can trade CRPT on Bitbns against the Rupee (INR) and Tether (USDT). These two pairs offer a solid starting point for traders to conveniently move funds in and out from Crypterium Wallet — an all-in-one wallet solution for digital asset holders — and trade CRPT with narrow spreads.
Bitbns, one of the top cryptocurrency exchange platforms in India, offering a wide range of trading features such as stop limit, trailing stop limit orders, margin trading, and options trading boasts client base of over 2.2 million users as of 2021.
"At Crypterium we value the trust of our customers and put their needs always first. When choosing our exchange partners, we try to engage with reliable platforms that have a proven track for serving clients with secure, stable, and highly convenient services. We believe that Bitbns fits that profile and can offer Indian traders unique conditions to trade CRPT,"

Austin Kimm, Chief Operating Officer at Crypterium
Crypterium, Wallet, Card and CRPT Token
Crypterium, launched in 2018 is a global fintech startup bringing transparency and efficiency to everyday digital asset finances. Crypterium offers a Digital Wallet and card which are being used by over 400k users according to the firm.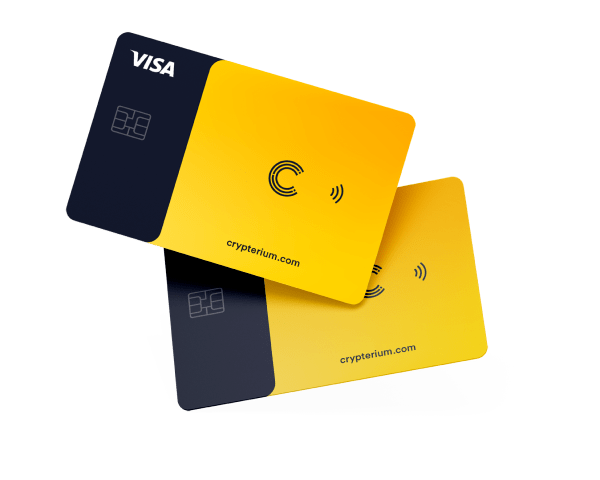 Crypterium Wallet offer multiple services from buying to earning interest, with an easy-to-use user interface. Some of their key features include:
Send: instant, fee-free international money transfer with just a phone number
Buy: purchase your favorite digital assets on the go with your debit/credit card
Exchange: access the best rates on the market from a single platform
Cash-out: withdraw your digital assets to your payment card in minutes, not days
Pay: get a sleek, ultra-convenient payment card connected to your Crypterium Wallet
Earn: save effortlessly with high-yield savings accounts for digital assets
You can download Crypterium Wallet on iOS and Android devices, or access it with your desktop.
The contactless, free crypto-to-fiat Crypterium VISA Card gives every digital asset holder the possibility to pay instantly in over 42 million retailers worldwide, and withdraw in ATMs all across the globe.
The Crypterium team is led by former General Manager of Visa Central & Eastern Europe Steven Parker and C-level executives from global financial institutions.
CRPT is Crypterium's native token. Developed on top of the Ethereum blockchain, this cryptographic asset is designed to guarantee the stability and scalability of all crypto-fiat services of the Crypterium family, including the Crypterium Wallet, VISA Card, as well as recently released solutions targeting the B2B sector.
The token is seamlessly integrated into the Crypterium product rage. When crypto-fiat transactions are executed, a 0.5% gas fee in CRPT tokens is deduced and burned. The more transactions processed by Crypterium, the more tokens are permanently burned. Since 2018, the company has burned more than 1.6 million tokens.
Back in June, the company unveiled an ambitious plan to speed up its burning rate by redeeming tokens from the open market. The CRPT circulating supply stands at 83 million tokens, from which 18 million are frozen on deposits. Crypterium is currently targeting a 30 percent token supply burn.
A Billion-People Market Opportunity
With a population of nearly 1.4 billion, the second-highest in the world, India is among the fastest-growing cryptocurrency communities. According to a Finder research, digital assets adoption in this country stands at a stunning 30 percent. The study shows that the use of cryptocurrencies is strongly linked to remittances due to India's huge expatriate population.

In the near future, Crypterium plans to add support for Indian crypto users. A stack of powerful features will allow clients to smoothly manage their digital assets from a single mobile-first platform. Aside from storing, exchanging, sending cryptocurrencies with zero fees, Crypterium Wallet also will come with commission-free crypto purchases, high-yield savings accounts, and an extensive set of AI-powered price predictions, and IBAN feature, which enables users to get European banking details to receive payments directly in EUR and withdraw them with ultimate ease.
How Good are the Financials?
In 2020, the company saw a 10X growth of its monthly gross profit with a turnover of €150 Million. Crypterium expects to break the €200 Million monthly turnover flow within the next two years. To support this growth target, the startup has already raised over €3.1M from European investors in a private equity sale and plans to extend its fundraising efforts to other jurisdictions in the upcoming months.
You can buy or sell CRPT tokens on Bitbns, check out the exchange here.
Disclaimer: Coin Crunch partners with multiple projects for consulting and marketing initiatives. Our editorial however remains uninfluenced by our partners unless specifically mentioned. For more details about our policies, please check out this disclaimer.