Funds ended up in 3 Hamas linked wallets.
In 2019, a Delhi resident lodged a complaint with the Delhi police after losing cryptocurrency worth INR 30 lakhs at that time.
According to a Times of India (TOI) report, after a 5-month long investigation by the Intelligence Fusion & Strategic Ops (IFSO) unit of Delhi Police Special Cell, it has been found that Palestinian militant outfit Hamas was behind the crime, sources revealed.
The unit deployed tracer tools to track the chain of transactions.
Perpetrators stole 6.2 BTC, 9.79 ETH, and 2.44 BCH from the victim's wallet. According to our calculation, as per current prices, the assets are worth INR 1.7 crores.
But as claimed in the TOI article, which has cited a confidential report by the police, the current value of the assets stands at INR 4 crores.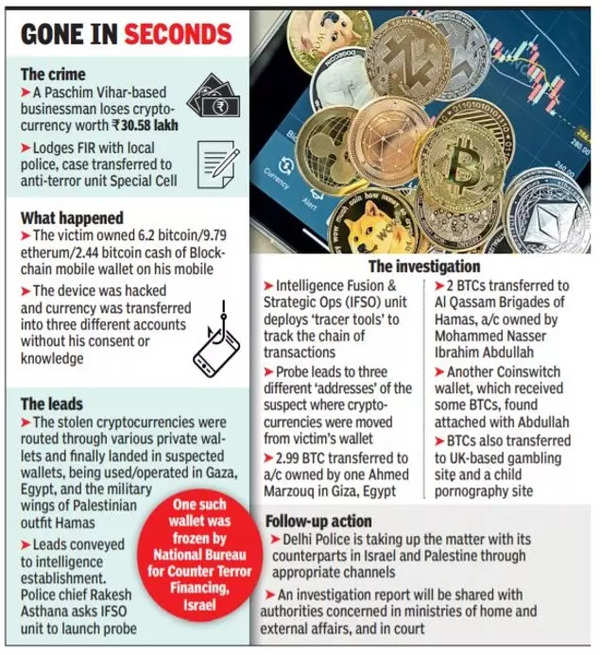 The stolen cryptocurrencies were routed through different wallets and ultimately ended in the wallets maintained by Al-Qassam Brigades, the military wing of Hamas.
The details of the victim's crypto wallet were uploaded on Darknet. His cell phone was hacked and cryptocurrencies were transferred to 3 different wallets.
One of these wallets has already been seized by Israel's Defence Ministry's National Bureau to counter terror financing. It belonged to Mohammad Naseer Ibrahim Abdulla.
"Other wallets in which a major share of the cryptocurrencies were transferred were being operated from Giza in Egypt. One such wallet belonged to Ahmed Marzooq. Another wallet, in which cryptocurrencies had been transferred, belonged to Ahmed QH Safi from Ramallah in the Palestinian city," the report filed by IFSO stated.
India is at a crucial juncture regarding regulation of the crypto industry. The country ranks 2nd in the Chainalysis Global Crypto Adoption Index. However, there are no regulations that have laid down a procedure to seek recourse from the law, in case of crypto fraud.

This makes the process cumbersome for the victims and also dissuades people from joining the crypto industry both as product developers and retail investors. The malicious actors of the society will keep preying on innocent individuals as long as there is regulatory uncertainty. That's why the crypto industry is eager for crypto-related legislation(s).
News recommendation: Crypto Related YouTube Channels are Being Hacked!