Inflation and internet penetration affect crypto adoption.
Cryptocurrency is versatile owing to its digital nature. It can be used for many things. However, many people use it just as a hedge against inflation.
Recently, CoinMarketCap revealed that citizens of emerging economies, especially the ones facing high rates of inflation mostly use their crypto holdings as a hedge against their falling national sovereign currency.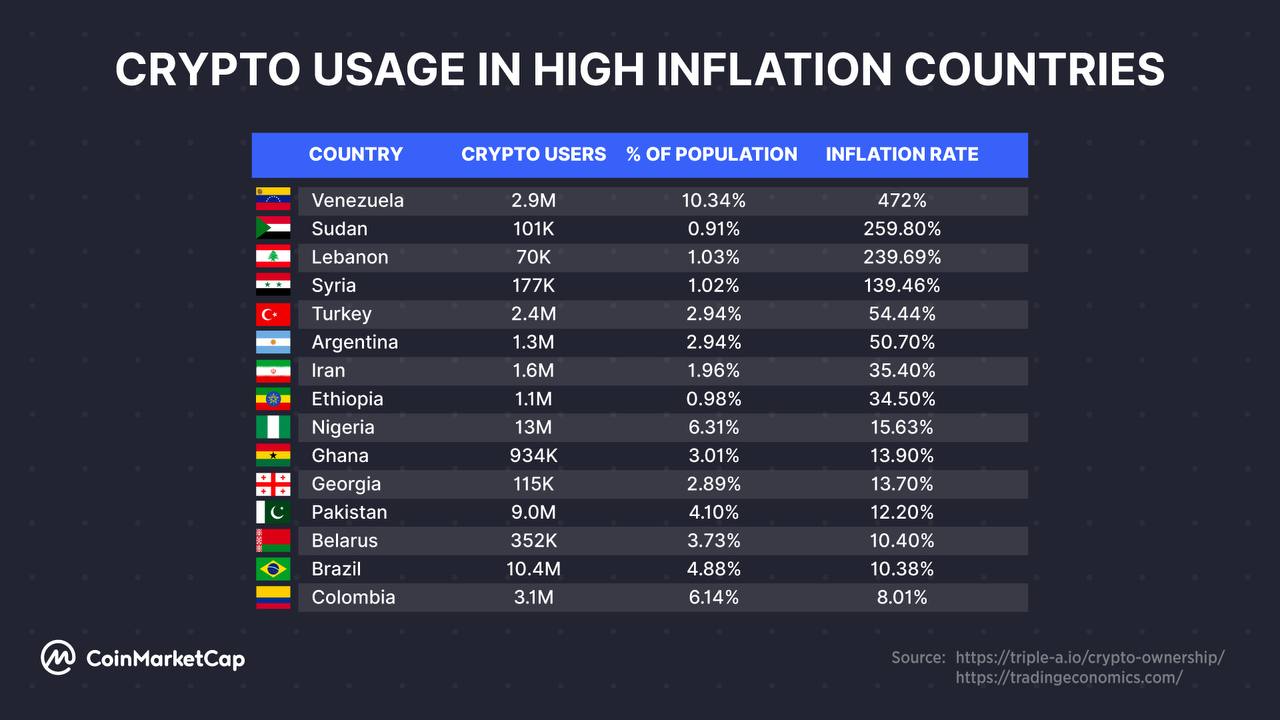 Data compiled by CoinMarketCap shows that Venezuela's inflation rate is at a record high of 472%, which has forced its people to resort to crypto. There are 2.9 million crypto users in the country, which make up 10.23% of Venezuela's population.
"Being a direct alternative to fiat, #cryptocurrencies are widely seen as a hedge against inflation, and to date, many popular cryptocurrencies have proven to be just that."

CoinMarketCap
Still, less than 2% of the population in most countries has embraced crypto.
CoinMarketCap has observed a positive correlation between inflation figures and the proportion of the population that uses crypto. With inflation sitting at a staggering 472% more than 10% of Venezuelans now use cryptocurrencies, mainly for remittance and P2P transfers.
It can be observed in the image above that many countries such as gut-wrenching inflation figures, Sudan, Lebanon, and Syria still have relatively low crypto.
This can be attributed to harsh restrictions on internet access and a general lack of fiat on/off-ramps.
The US too recorded a skyrocketing increase in the consumer price index, which hit 40-year highs last month. Still, it is not among the top 15. Nevertheless, more than 8% of Americans now use cryptocurrencies.
In most of these countries, volatile crypto is popular among the wealthy, whereas the less privileged population invests in stablecoins. Maybe in future, these countries may begin using them as a means of payment.
News recommendation: Indian Crypto Exchanges See Sharp Drop in Liquidity